Today's meeting was an enlightening experience. We started the morning with classical music playing in the background, in an attempt to create a more educational, uplifting experience, thank you Jack. However, we are not sure if the effects of the music helped or not, but it was a valid attempt.
Our speaker was Jake Rolfe, President with the
School of Life Foundation.
He was accompanied by Jeff Tuscano, Director of Donor Participation and Program Development. This foundation was created in St George about two years ago. They developed a curriculum to help youth find happiness and give them a better chance and advantage at life.
The workbook titled
Learn to "School" your Toughest Opponent
is the manual used for this training and enlightenment.
The book contains a 10 step formula on how to obtain success, peace, and happiness in the "School of Life". Each step is an "A" with a simple homework assignment. For example the first "A" is Appreciation. Learn how having gratitude in your life can impact you in many ways. Your homework to achieve this "A" is sending a thank you message to someone every week!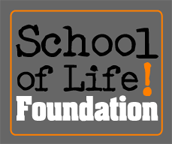 Appreciate, Assist, Attitude, Aim, Associate, Align, Action, Avoid, Adapt, Always

There efforts have reached over 15,000 youth. They are working with over 100 organizations local, national, and international to help youth succeed in life. They are beginning to work with Boys and Girls Club of America, which will expand their national reach to all 50 states. Jack and Jeff gave us a complimentary copy of their book with an invitation to teach a youth.

For more information:
visit their website (click here)
call Jack at 435-632-2947
call Jeff at 435-229-1246

Our Know Your Exchangite today was Officer Neal Smith, Southern Utah Behavior Health Center, 474 W 200 N, St George, Utah, 634-5600 (in case you couldn't remember). Our Iowan, Santa, Police Chief, joke telling, Okoboji member of the club. He set a new standard for our Know Your Exchangite presentation.
Don't miss next week's meeting with Dixie State Football Coaches.